The most wonderful time of the year has come and gone and I am left with a hole in my stomach where bad junk food and poor dance moves once built a crater. But just like the movie Braveheart couldn't take away Mel Gibson's freedom, no one can take away the smile slapped on my face from AdJam 2013. Our agency killed it on stage in a battle between advertising professionals covering whatever sub par hits they could find after the 90's (Nothing good ever happened after the 90's).
These are stories I plan on telling my grandchildren daily, pretending I have a bad memory so that I can obnoxiously replay my glory days at a moments notice. But, because there is a good chance I will remain single the rest of my life, I am sharing them with you now. So without further adieu, here are 10 things I loved about AdJam this year so that we can all soak in the limelight known as BLITiZeN Kane.
1. Eric's passionate eyelids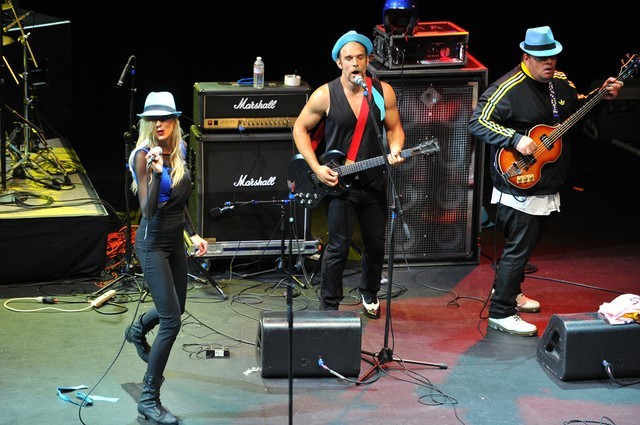 Sometimes AdJam is too much to handle with both eyes open. This post is for Eric, because I don't think he saw any of it.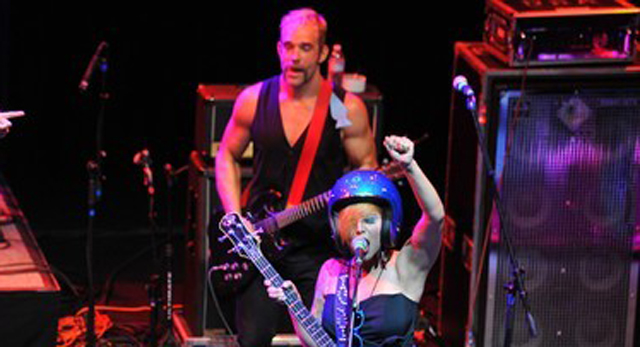 2. The Body Roll
Harmonies aside, the body roll was our biggest struggle this year.
3. Gagnam Style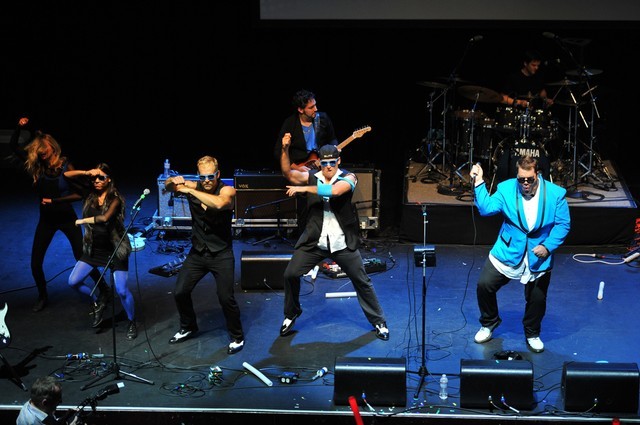 Yes. Tim Richards looked at flash cards for at least 10 hours straight to learn to speak Korean. And yes, this may have been the greatest moment in BLITiZeN Kane history. It was the only time we have ever been able to dance in sync. Every dance rehearsal before this was ruined by my hip shuffle. (10 style points go to Jasmine Pae.)

4. Phil in Locked Out of Heaven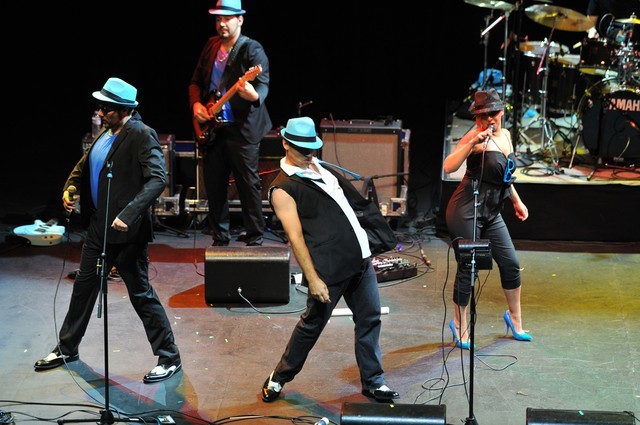 Phil is the most comfortable man I know in his own skin and his choreography for both Gagnam Style and Locked Out of Heaven are unmatched. Had he put more energy into his dance moves, he would have been flying. Had he put more energy into his tantrum when no one danced during sound check, he would have been in tears.
We learn an important lesson from Kiczula, live life to the fullest my friends.
5. Christina Aguilara Meets Icona Pop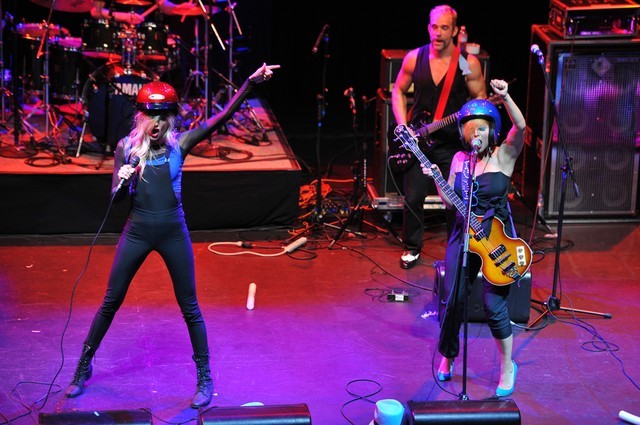 I will never be happier than the time I wore a snowsuit and jumped around in a motorcycle helmet on stage with my soul sisters Jasmine Pae and Andrea Gedrich. Nor will I ever have the chance to use my entire wingspan to sooth a crowd into realizing how beautiful they are.(Apologies for not having the full video for Icona Pop.)
Beautiful

Icona Pop: I Love It

6. The D#$* in the Box Explosion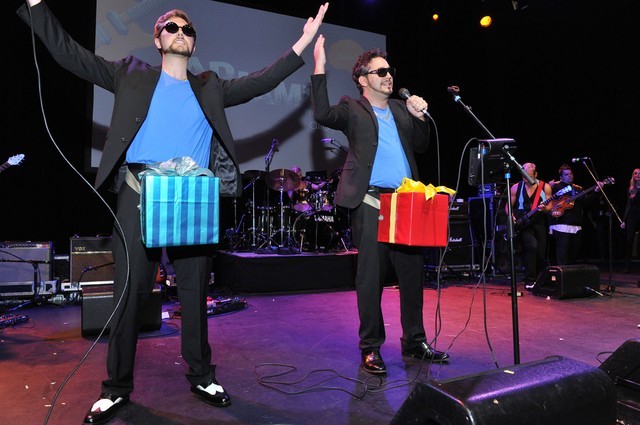 AdJam got wind that we were going to start the show with an explosion. They notified Ken Martin, cofounder of BLITZ Agency, that it would be a $1500 fine if the confetti explosions went off on stage. You know you work for someone great when they take less then 3 seconds to shrug and answer, 'Okay that's fine with us.' Unfortunately, the second card they threw down was banning BLITZ from AdJam FOREVER. For the many disappointed fans who watched the contraption get built, here are some videos for you. [Note: I try to censor my blog because I am, for the most part, pretty PG and because my grandmas read this. For that purpose, I wanted to put a little disclaimer that these two videos are not within that rating.]
The Explosion:
Here is the whole AdJam Performance
7. I Believe In A Thing Called Love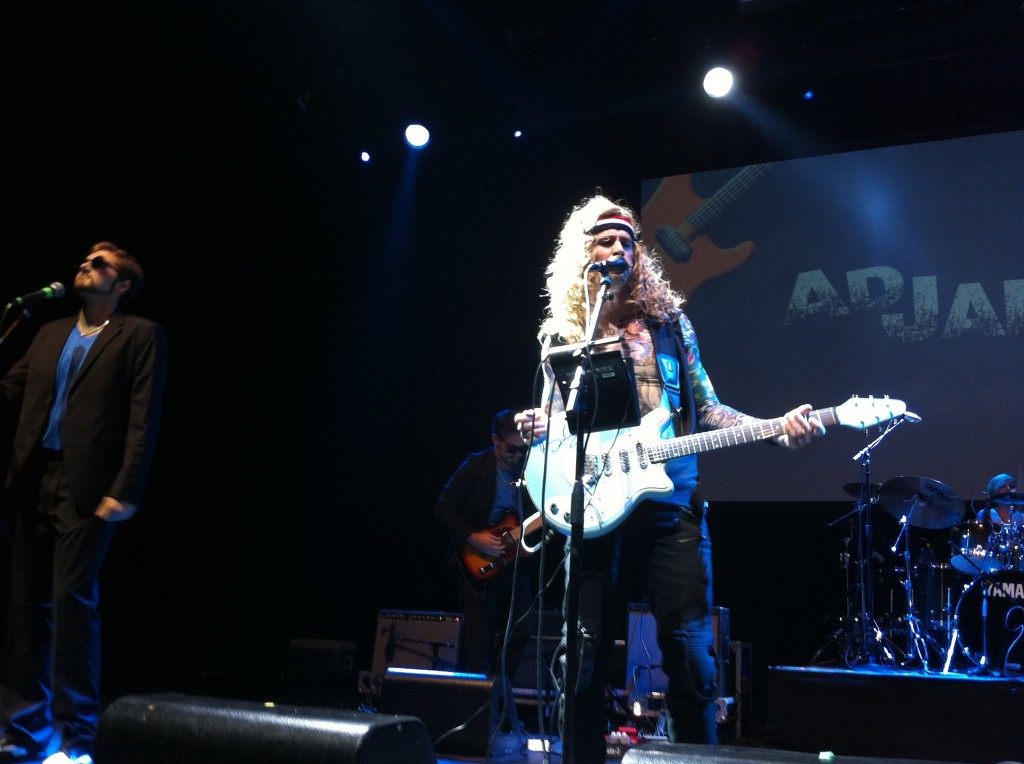 The only thing missing from this performance was the full body suite with a lion printed on it that was originally mapped out for this number. However, I have to say that the Johnny Depp meets full body tattoo suit thing looked pretty awesome.
8. Trying to Trash Talk Other Agencies
It's hard to trash talk via Twitter. But we killed it right?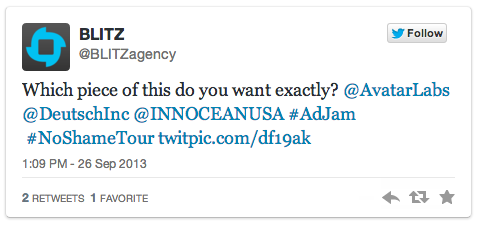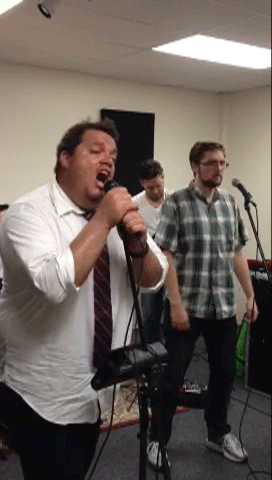 9. The Facial Hair
This is a text photo I received the morning of AdJam.
It felt like the first present you open on Christmas morning and I wasn't disappointed by any of the flawless mustache combinations to follow.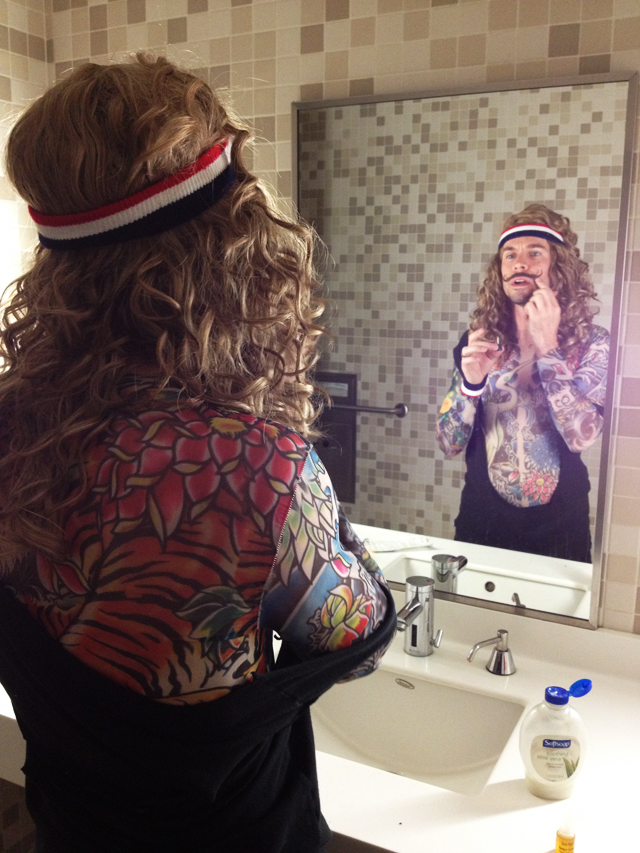 The only thing missing from this display, was the arrow Eric tried to shave into his chest hair. It turns out geometric shapes are hard to manscape, and BLITiZEN Kane was left with a hairless Chip N' Dales waiter with sideburns on rhythm guitar.
10. Losing… Again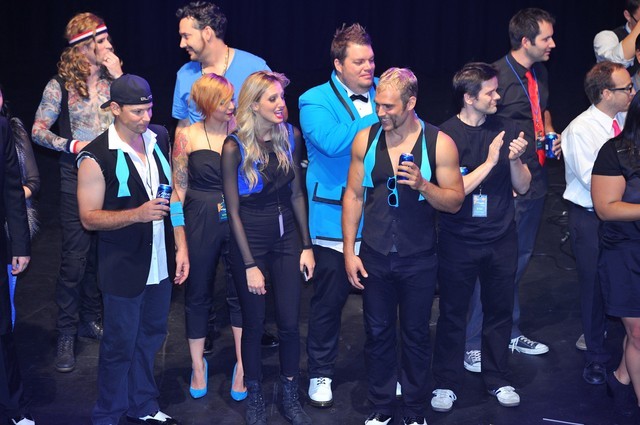 I love that someone caught this moment on camera. It expresses how I felt being ranked 3rd by volunteer judges in PacSun hoodies. It is hard to walk away from something you put 40+ hours into empty handed. However, it makes me feel better that the winners of Think LA's AdJam don't walk away with anything either. Unless you count the guitar they give out on loan that has been defiled by girl-handwriting with metallic Sharpie markers.
I could keep this list going, but will sum it up with this: I love AdJam. Not because of the artificial fame, unlimited pizza, or free mesh t-shirt from H&M, but because it is the one time a year I get to work with creative geniuses to do something totally ridiculous and completely out of our comfort zone. Sometimes the best side projects are the ones you do because you 'love it' regardless of what anyone else thinks. No Shame = the greatest gift of all.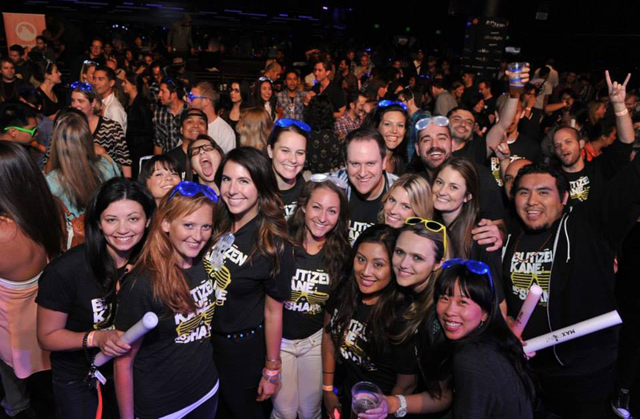 Special thanks goes out to my friends at BLITZ who stewed through LA traffic during rush hour to make it to the show, BLITiZen Kane – my bandmates for life, Miguel for teaching me the same 3-note harmony over 30 times, Shelly for taping these videos and making surprise guest appearances, and Chris Morabito for designing rad t-shirts. I had the time of my life, and I owe it all to you.