I currently sit in the armpit of Eric Chevalier. This is thanks to a free-thinker who thought they were benefiting society by shopping at Whole Foods and developing the stand up desk with abandoned Ikea furniture.
Our office recently gave everyone the option to get a stand up desk or to continue using chairs. This put me and my desk neighbor Eric in an awkward position, but mostly it put me at eye level with any object that rolls across the edge of his desk and into my forehead. As a result, over the last three months I have documented my coworkers with stand up desks to reveal the truth about taking a stand. Here are some of disadvantages I have noticed: (Note – All of the photos below were taken unknowingly over the course of three months. Dedication.)
1. Set Up
Building a piece of furniture from Ikea is about as stressful as taking the ACT. Except with the ACT you are guaranteed that the critical thinking nightmare won't be longer than 4 hours. So unless you have an intern who will build the desk for you and measure your eye levels to guarantee optimal posture, stop. (So basically unless you have Spencer, which you don't because we have him.)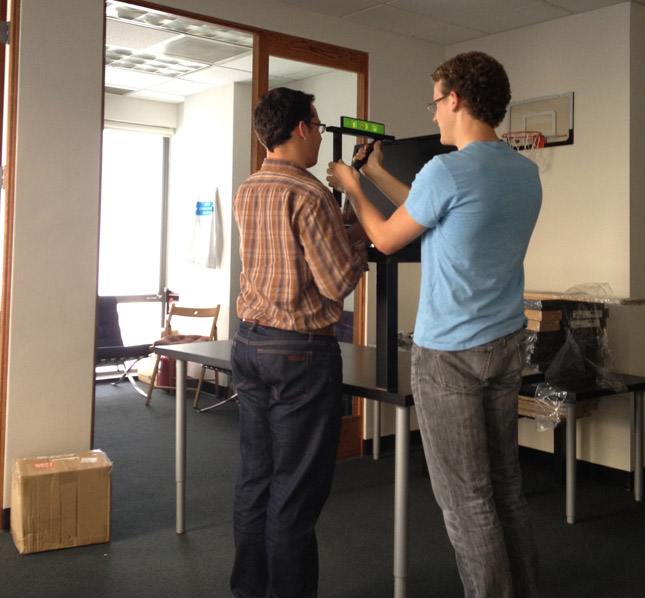 2. Sidlers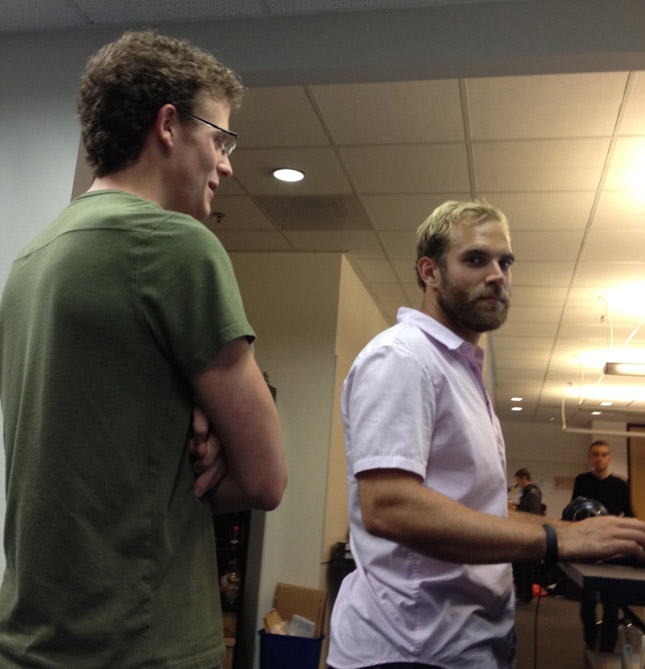 Seinfeld introduced the "sideler" during its 162nd episode. A sideler is anyone who sneaks up behind you without you knowing. Refer to the pirated video below:
Because you are always standing, you are always in a vulnerable position for sidlers walking by. However, it could be argued that a professional sideler can commit to meeting various eye levels.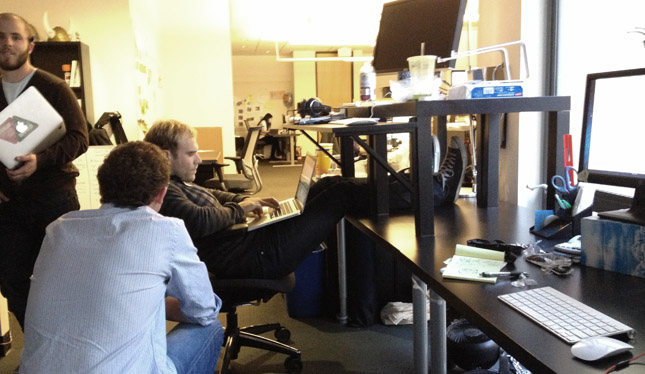 3. Full exposure to your feet.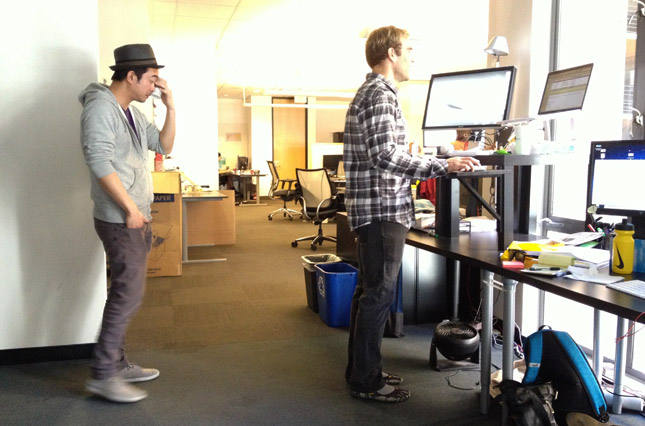 Unless you have presentable shoes that also meet the comfort level needed to stand all day, stand up desks are not a good option for you. Vibram FiveFingers are also not a good option for you.
4. Nobody wants to stand all day.
This becomes a problem when you have a standing desk. As a result, I have seen all sorts of strange solutions to avoid the discomfort.
Standing on an inflateable.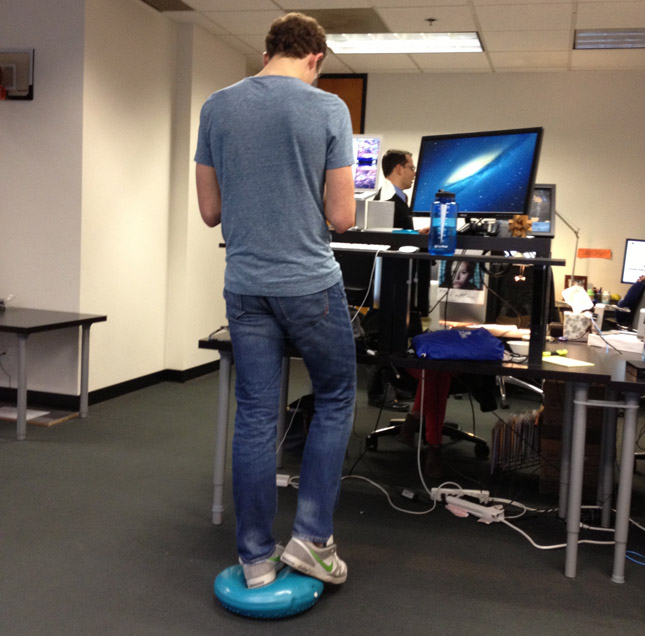 Denial that you have a stand up desk.
Denial that you are at work.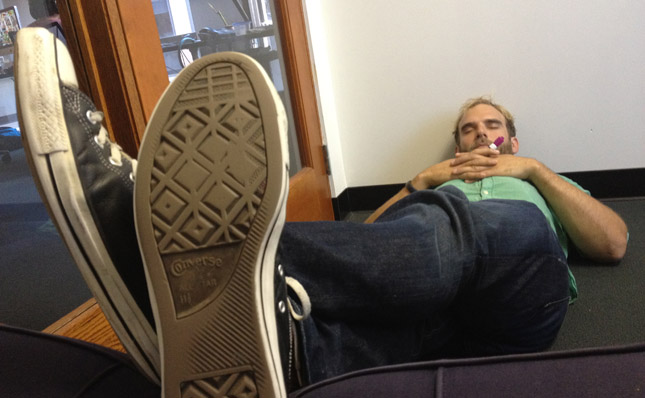 Benefits?
So far, I have only seen one benefit to the stand up desk discovered by Ellen Lu. And that is, there is more space to hang photos of good looking men. Slow clap goes out to Ellen for making lemonade out of lemons, and a beautiful montage out of a somewhat disfunctional color printer.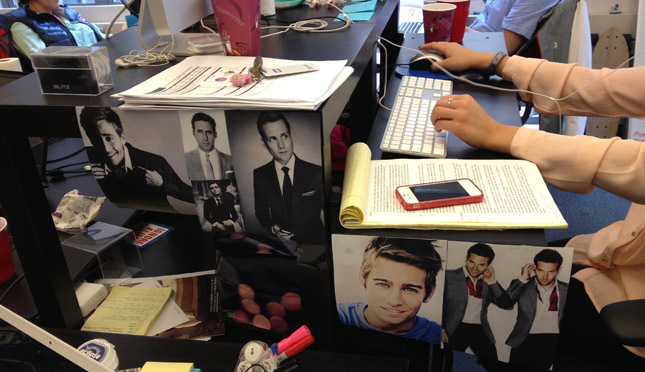 What's Next
Although some of you may continue to deny that your stand up desk is killing your feet and that you schedule meetings for no reason other than to sit in a chair, others might be interested in more comfortable alternatives. Here are some new up and coming trends I have seen in the office:
Arms elevated.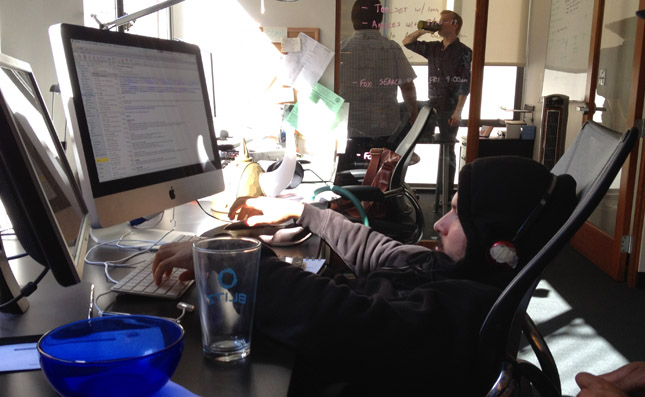 Feet elevated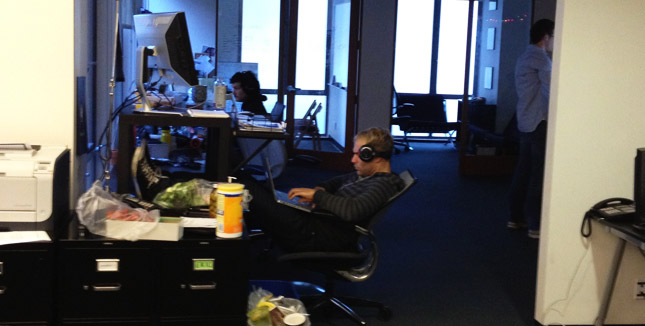 Legs perpendicular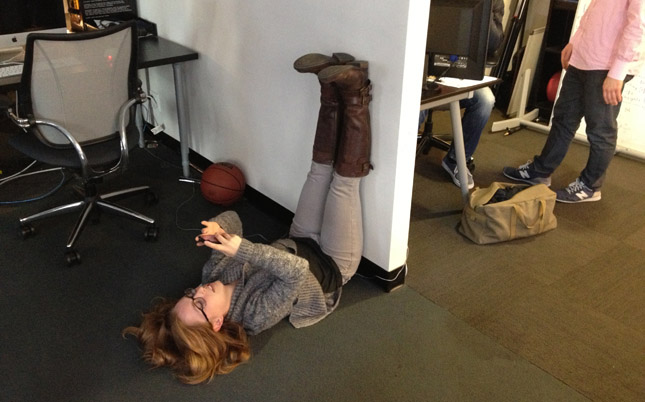 Laying down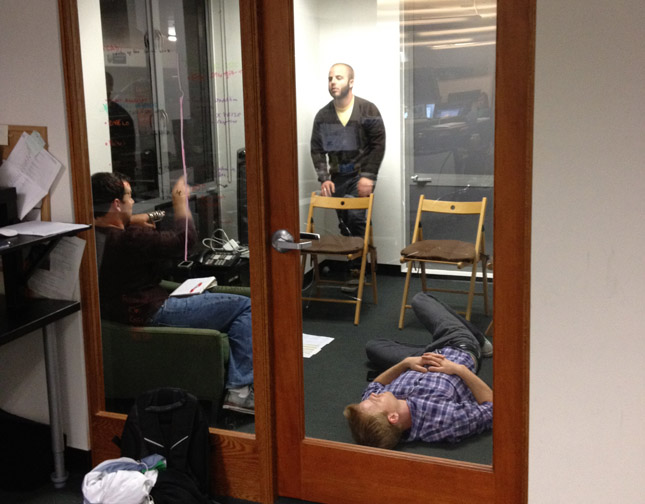 Cardboard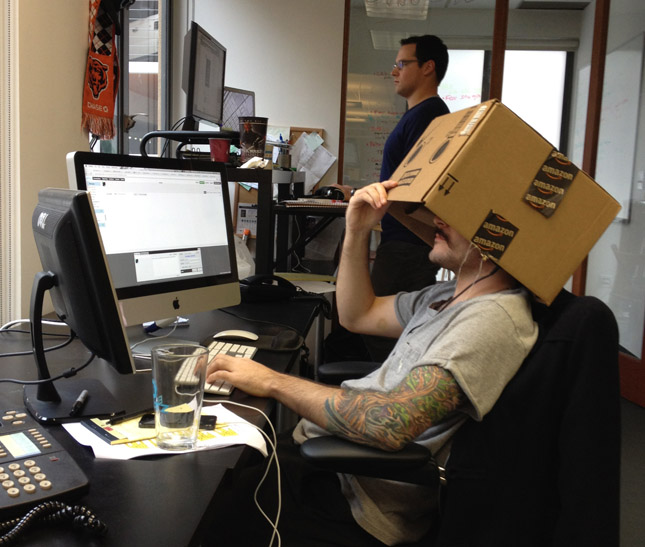 Something to Sit On
What are your thoughts about standing desks? Ikea no Ikea? Maybe an upgrade to this sit-stand contraption? Or even better this desk that looks like it could be transformed into a segway? Or literally going the 'extra mile' with a treadmill addition? This trial with a unicycle addition didn't go so well, but I'm open for comments and suggestions.